I swear I heard her mumble under her breath: "Tell 'em I'm coming...and hell's coming with me..."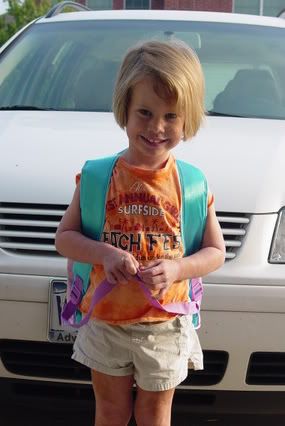 Today is Jenna's first day of preschool. It was supposed to be on Monday, but you know, with the ear infection and the fever and the whining...I just didn't want to impose that upon the general public. She's supposed to start in the "3s" classroom, and then switch at the end of the semester. However, since I have such a brilliant child, they're putting her directly into the 4-year old pre-K class. That makes me laugh--doesn't EVERY parent think their kid is just a braniac? I've never heard a parent say, "Well, you know, little Josh, he's just dumb as a fence post." Jenna's a smarty-pants, but I'm not arrogant enough to say that she's gifted. She learns quickly--that's good enough for me. Besides, I'm glad she's in with the 4-year olds. She's the youngest one in there, and the smallest. I'm hoping she gets pushed around a bit--get her off of the 'ol high-and-mighty column.
Anyways, she was raring to go this morning. If I had my druthers, and I don't--even though she's 3--I would have kept her home another day. However, I had to balance the scales: whining about how I wouldn't let her go to school, or let her go and tough-it out? No fever. She's in school. I'm kinda glad she's been home...I'm not quite ready for her to be in preschool. She's almost FOUR. Cripes, I can't believe it. I almost had cardiac arrest, dropping her off this morning. I'm hugging her, and holding her tight. Meanwhile, she's pushing away from me, saying, "MOM! I'm cool! I have Pico with me!" (That would be Pico, her stuffed dog.)Then, to add insult to injury, I find out that she's going on a field trip today! On a bus! Away from the school! Not with me!! Sweet baby Jesus, I'm going to pass out.